The marquise halo
Custom Remount
We started with removing, weighing and grading the client's center and side stones. Information gleaned from the interview regarding the client's lifestyle and aesthetic inspired the to-scale design options. Once the design was chosen and the quote was approved, 14k white gold fabrication stock and matching accent diamonds were ordered. Each element of the design was built and polished before assembly. Throughout each stage, images were shared with the client making her part of the creation of her custom remount.
The Bright Cut
Custom Design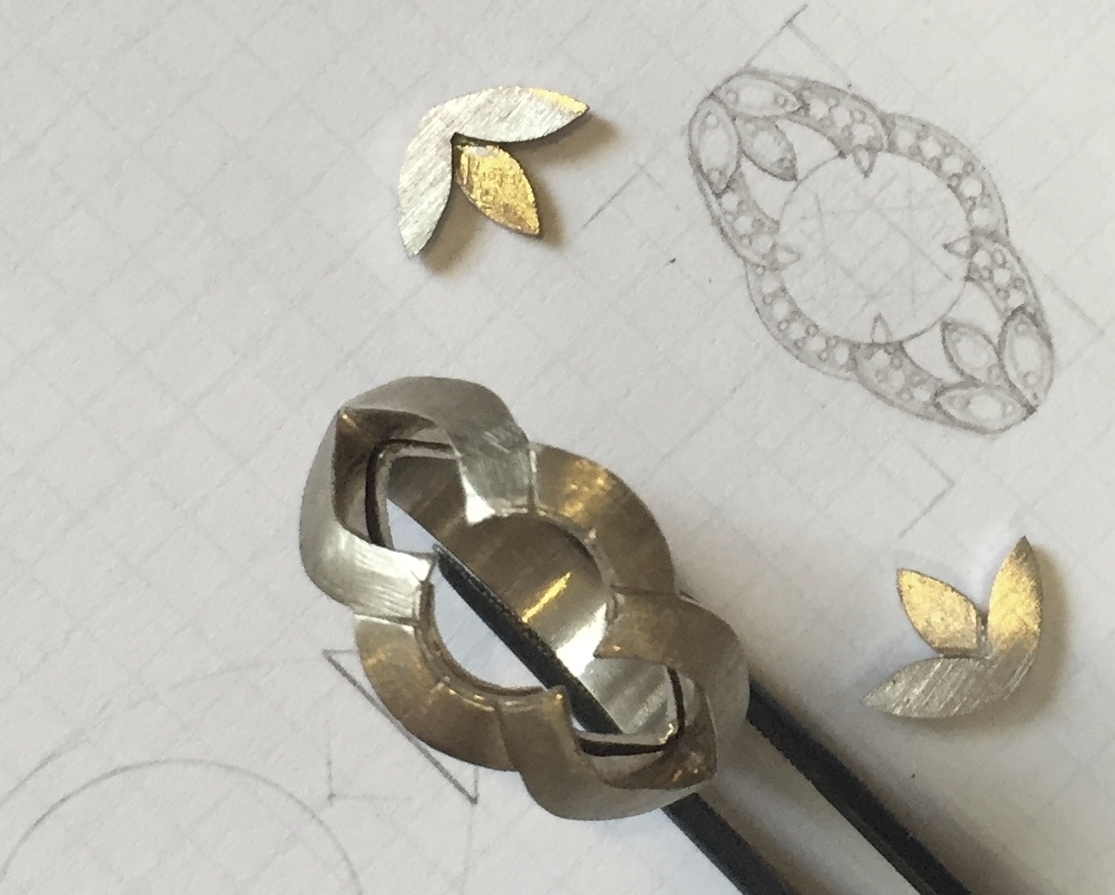 This partial halo style engagement ring designed to protect the center diamond has a wide feel and was made to be worn without a wedding band. Hand fabricated with a nod to vintage or period jewelry, this 14 karat white gold and diamond mounting is set in a common bead and bright cut style trimmed in millgrain.
The European Heirloom
Reproduction Design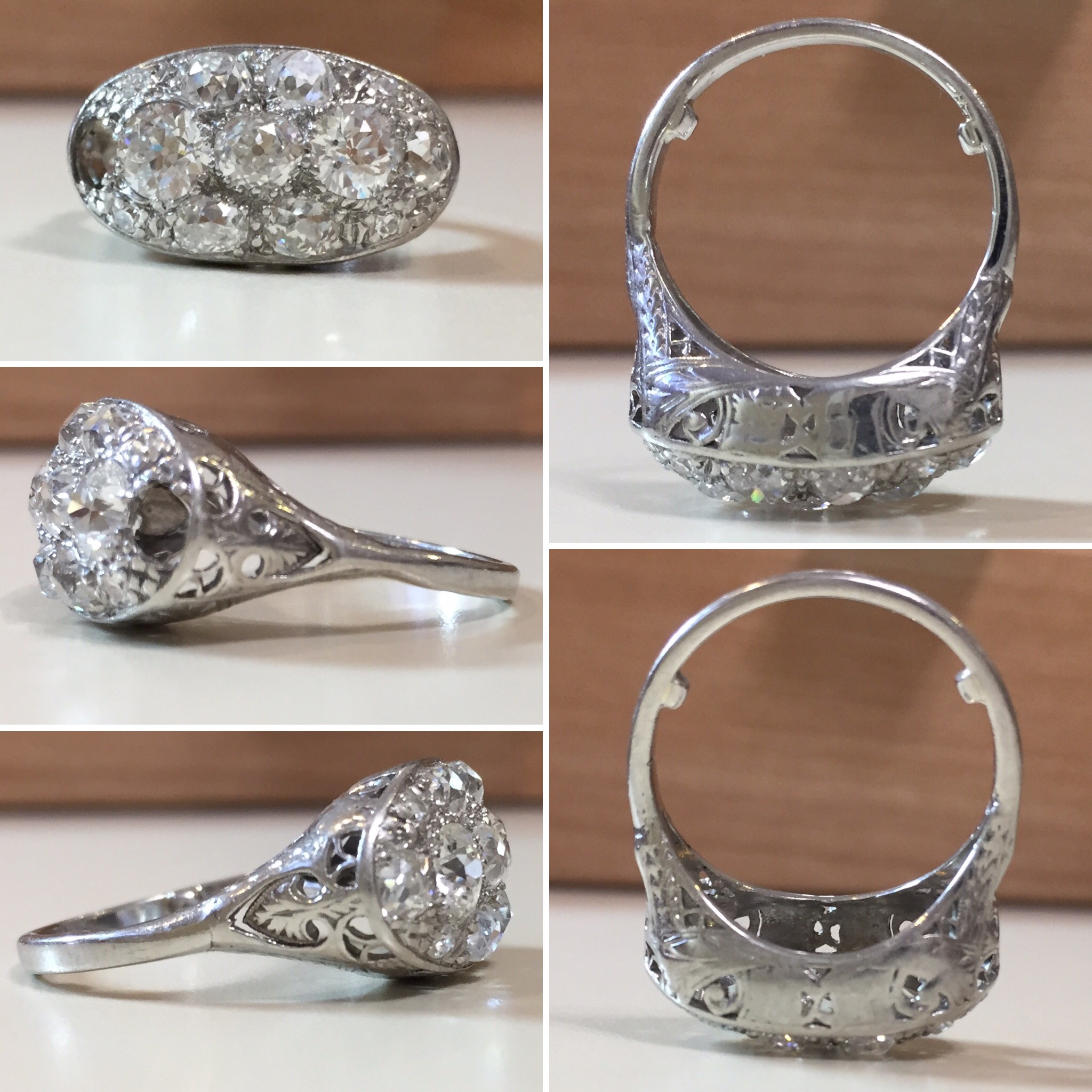 When the mounting you cherish is beyond repair, Reproduction is a valuable option. As you can see in the "Before" images, the original mounting was missing one old mine cut diamond and still had hints of the original detail. We replaced the missing diamond, and remounted all of the original old european and mine cut diamonds into a new platinum mounting and recreated the gorgeous filigree, hand engraving and millgrain detail from the original ring, creating a lasting heirloom.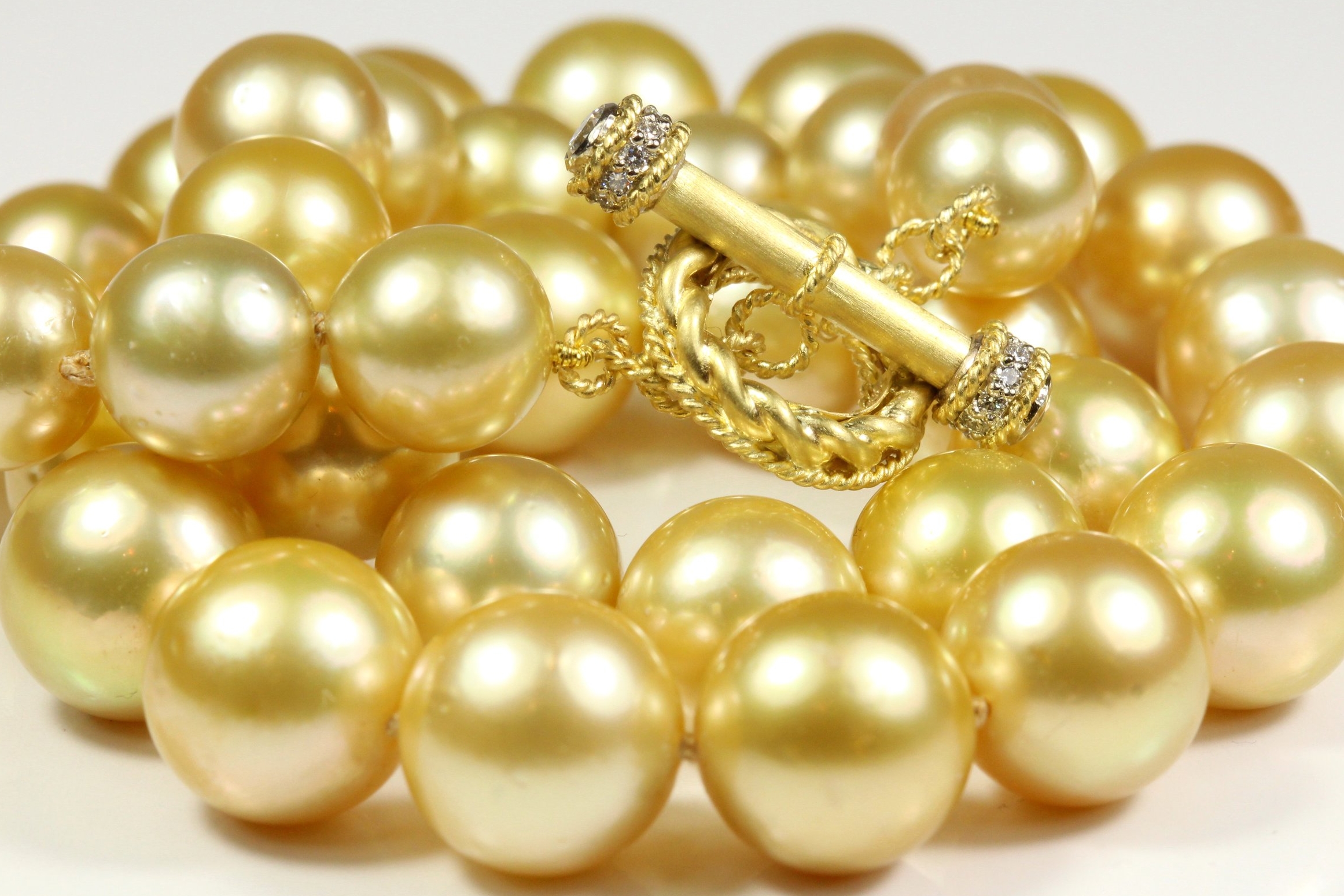 The Nautical Pearl
Custom Design
Using Emily's strand of rich, lustrous, golden pearls, we fabricated this nautical, yet modern toggle clasp of her vision in 18 karat yellow and 14 karat white gold with round brilliant cut diamonds. The single pearl drop earrings were designed and fabricated to blend the nautical feel of the necklace, creating a one of a kind suite.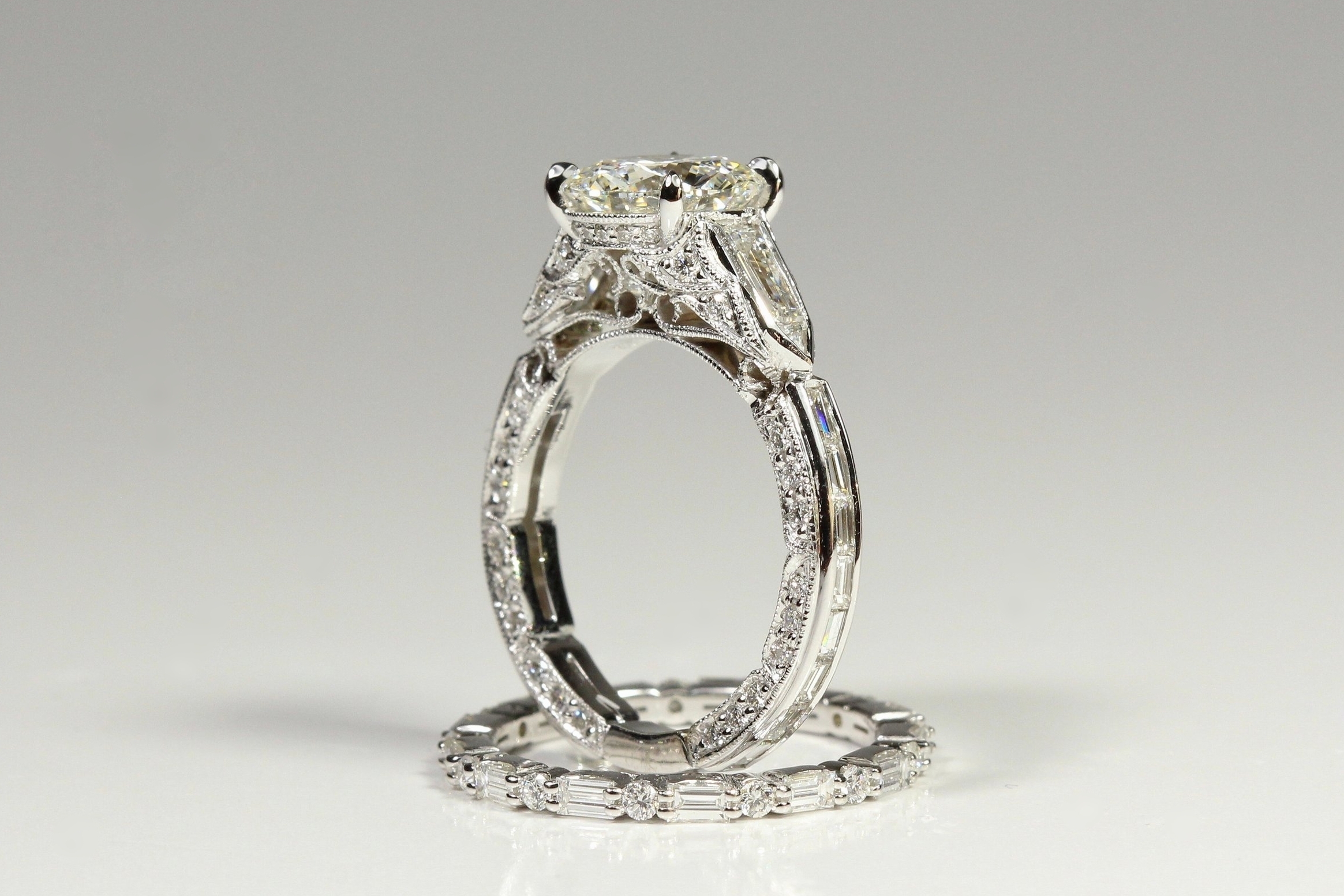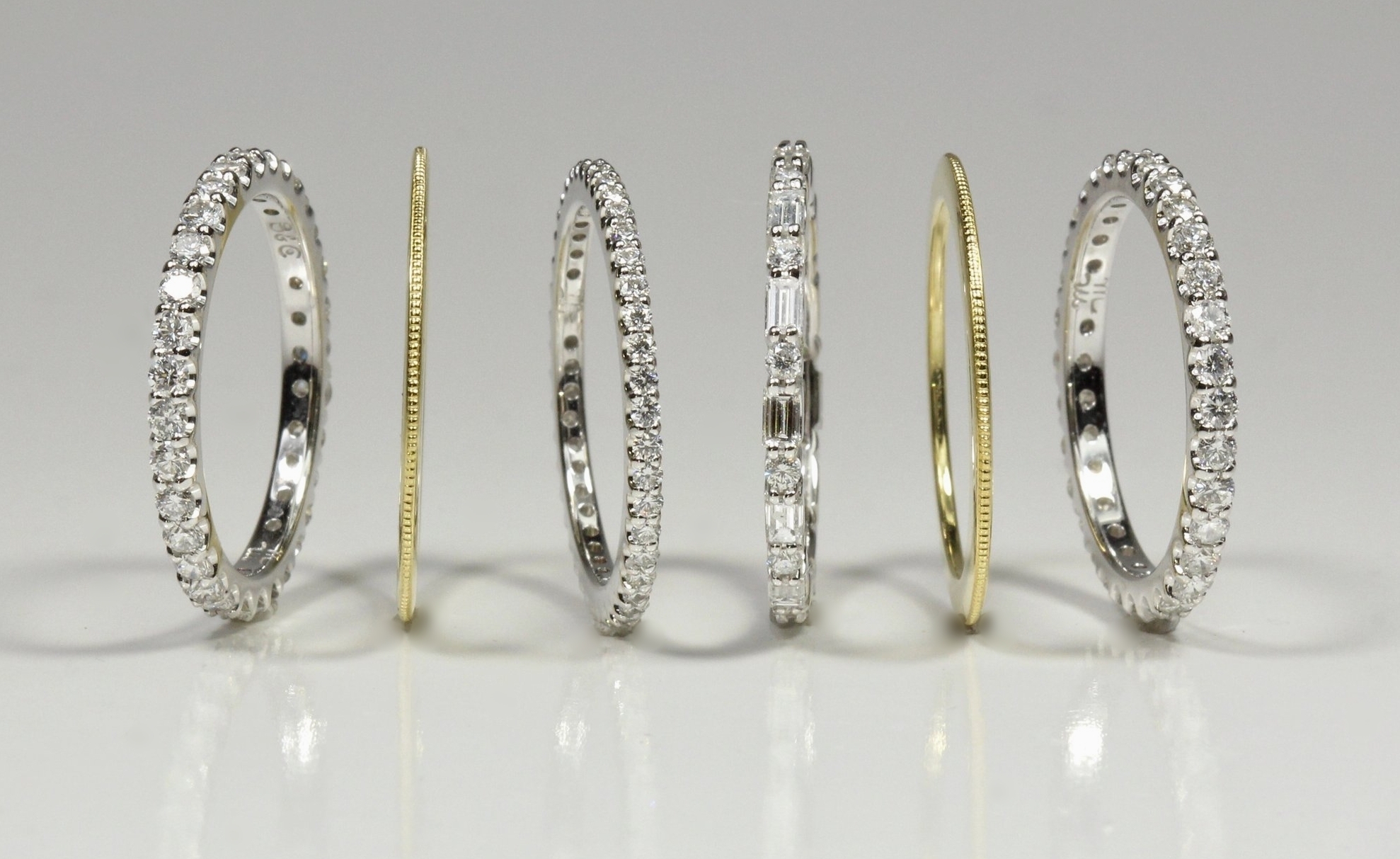 The Wedding Set
Custom Design
This wedding set was hand fabricated in 14 karat white gold showcasing a strong modern-classic feel with her 2 carat round brilliant cut center and large tapered baguette diamonds. Each view creating a life of it's own, the top view is strong, modern-classic while the profile is deilicately detailed in filigree and diamonds.
A variety of bands were designed and created to sit flush against the engagement ring giving the ability to change the look of her set as she desires.
The "anniversary" Necklace
Custom Design
This magnificent platinum and diamond necklace was designed and created as a 25th wedding anniversary gift. Each detail of the design was created to symbolize twenty-five years of love and life; choosing an exact 2.5 carat round diamond on center with twelve .25 carat diamonds on each side, equalling twenty-five diamonds total. The hand engraving and filigree on each link further defines this unique piece, finishing with her monogram on the clasp.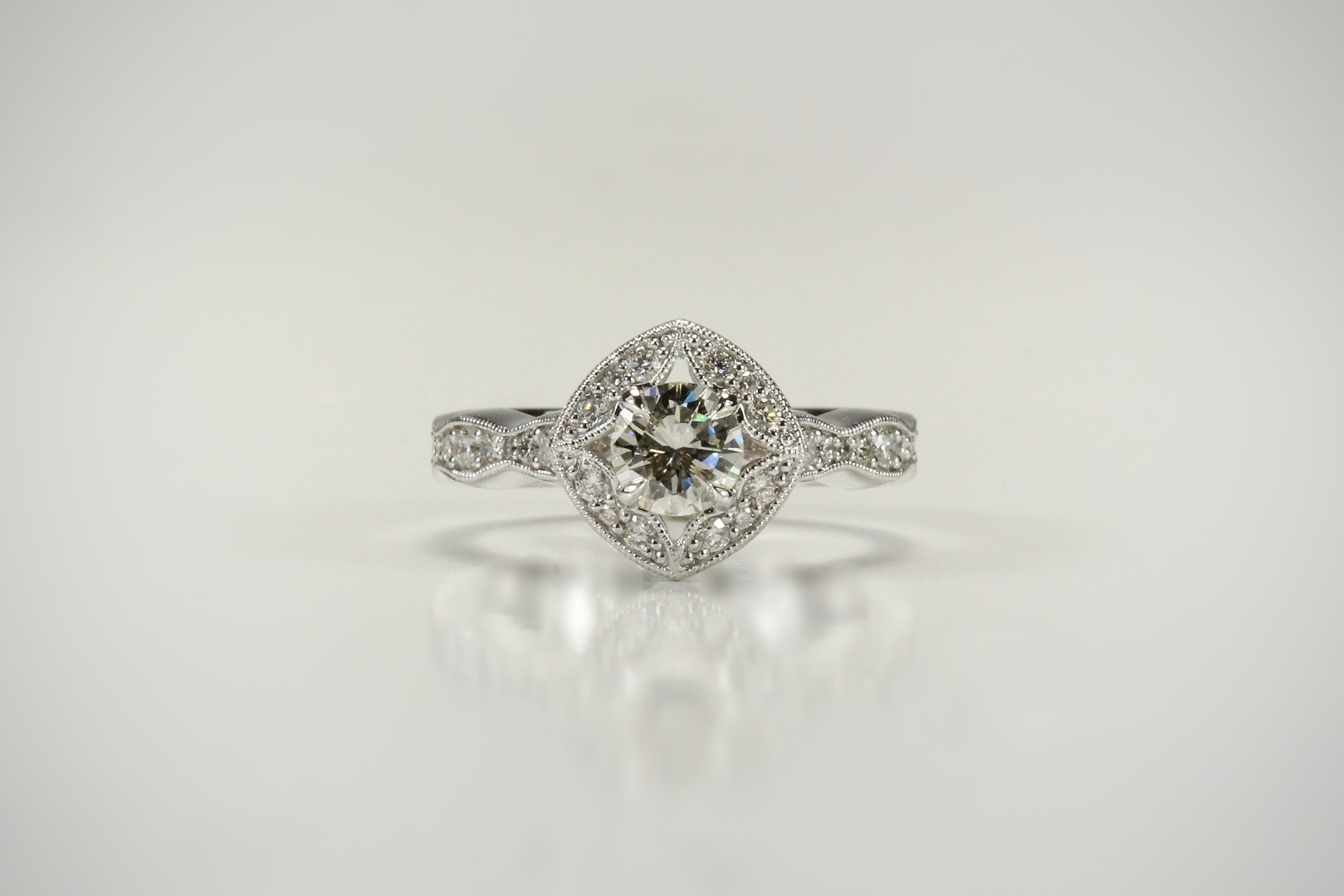 The Dynamic Halo
Custom Remount
Kathy's 14 karat white gold engagement ring was designed to remount her diamond of sentimental value. Desiring a flush fitting wedding band, we still managed to create a dynamic shape. Including a fancy halo and an undulating shank, various sizes of specially matched diamonds were set in a common bead and bright cut style with millgrain detail.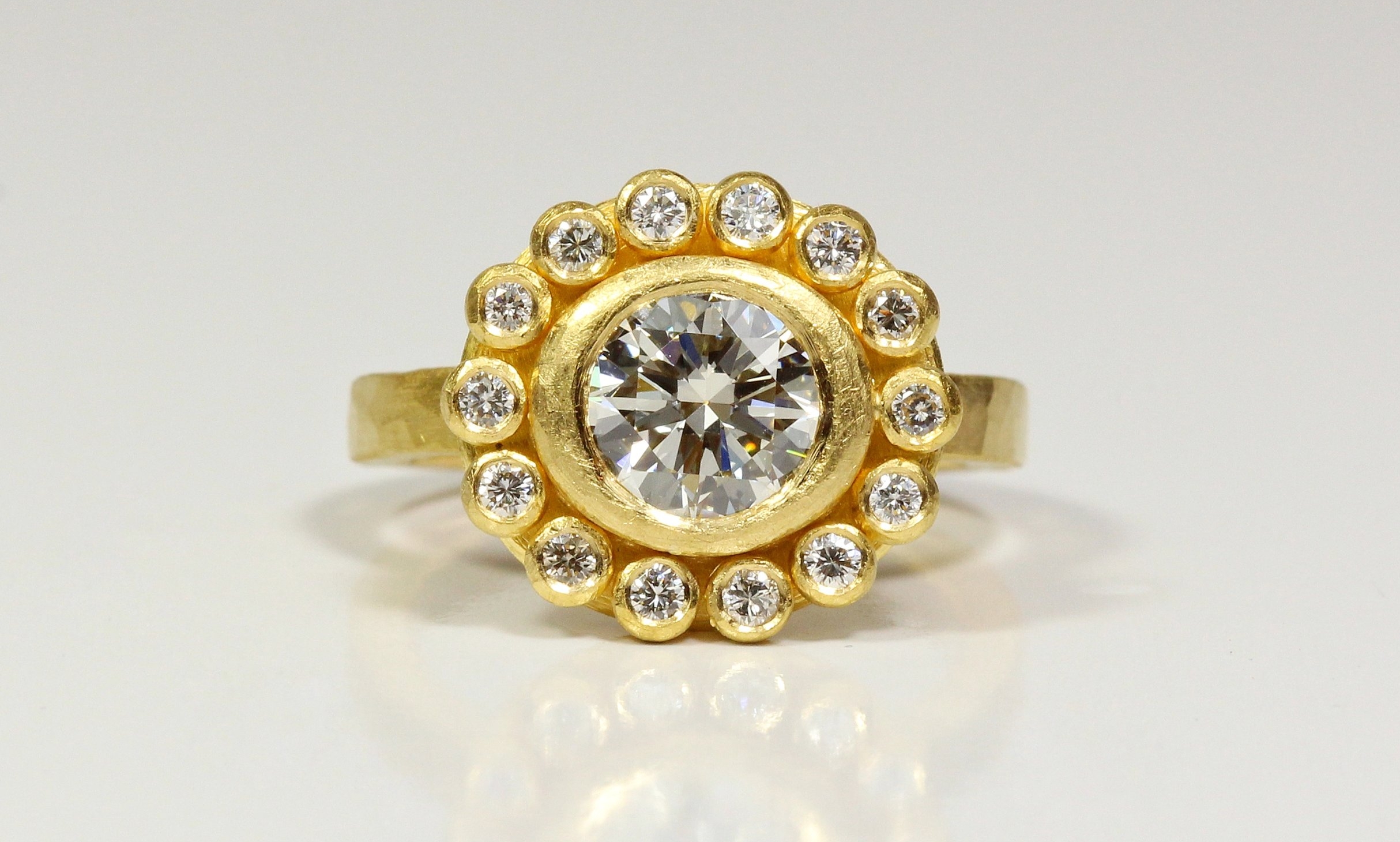 The Gold Glory
Custom Design
In all her high karat glory, this engagement ring was hand fabricated in 22 karat gold. 14 bezel set diamonds encircle a large round brilliant cut diamond on a hat bezel. It also features granulation, a hammer texture and satin finish, all applied by hand. It was designed to accommodate a flush fitting wedding band, making it a very unique wedding set.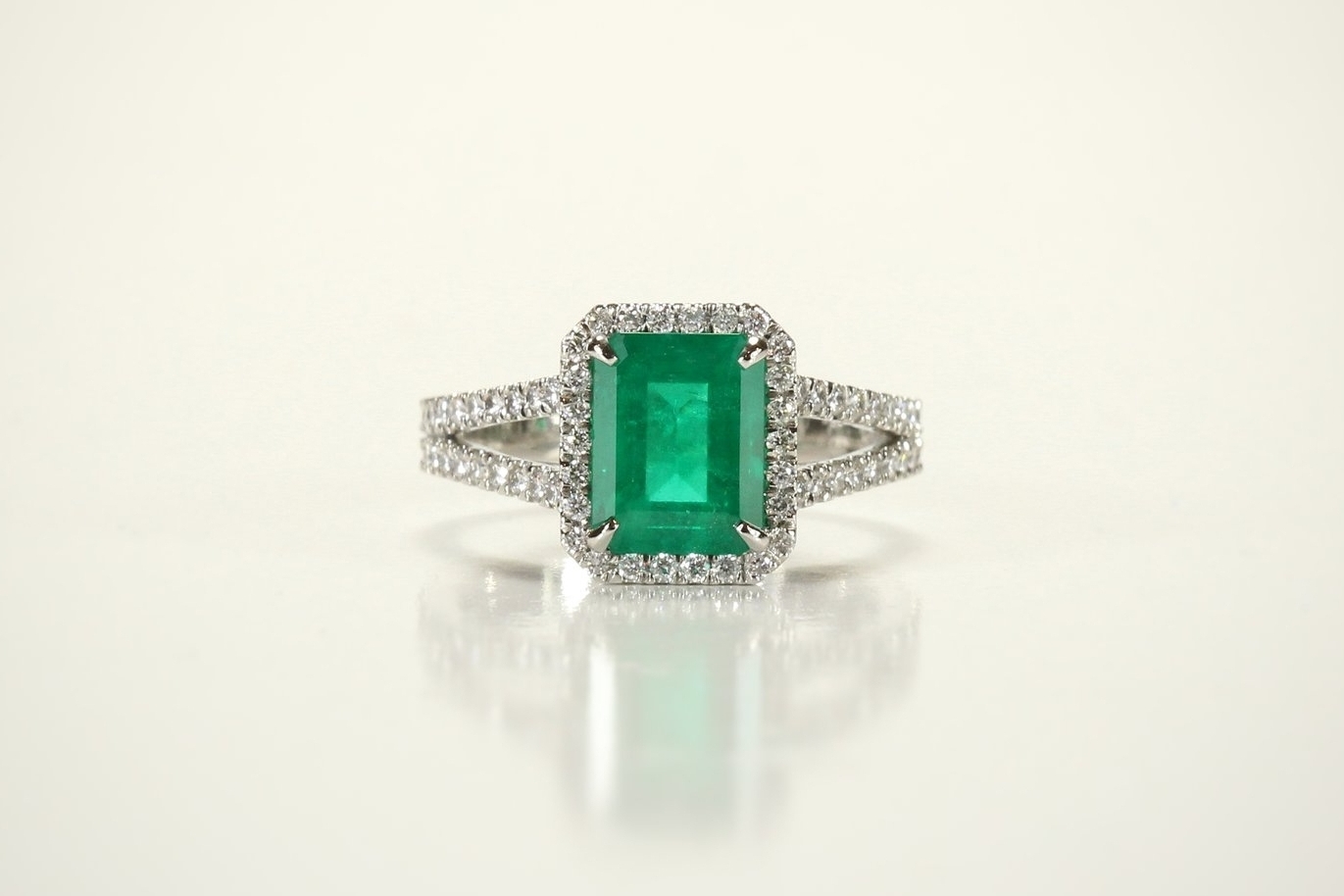 The Brazilian Emerald
Custom Design
Nicole's gorgeous platinum and diamond right-hand ring was built around the chosen 2 carat Brazilian emerald cut emerald. It features a classic gallery, a split shank and diamonds set in a french style around the halo and span half way down the shank.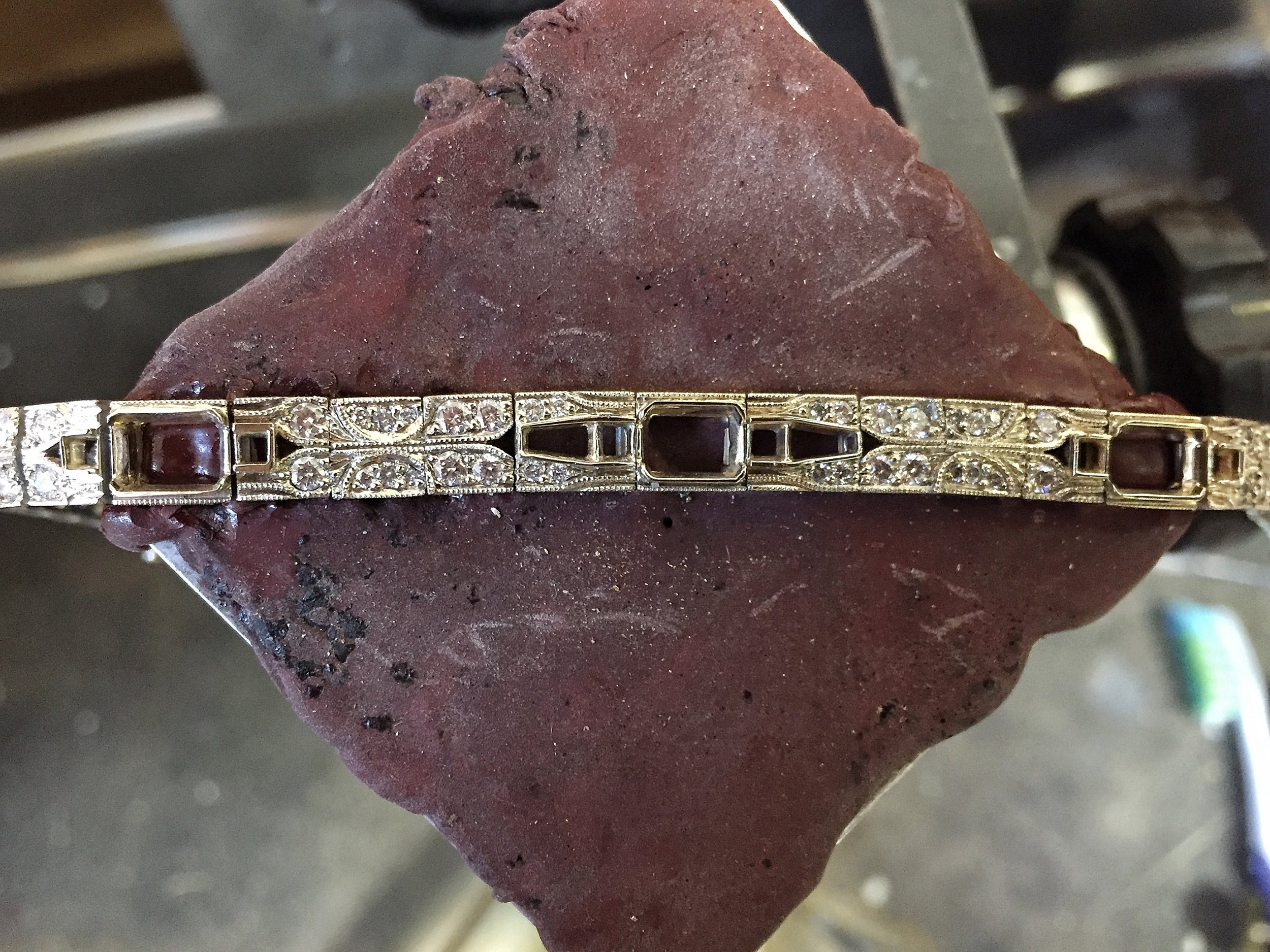 The Diamond Bracelet
Custom Design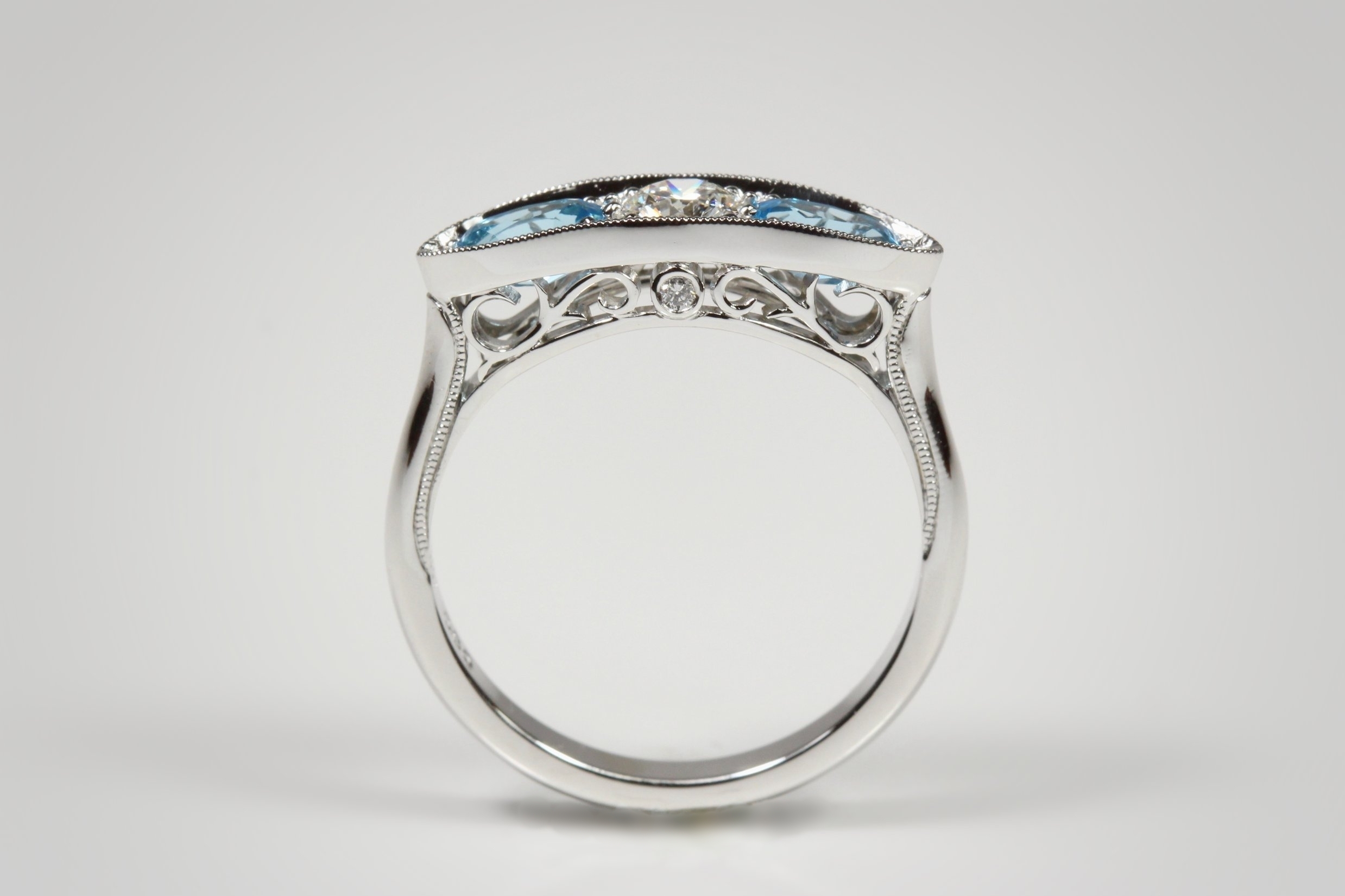 The Blue Topaz
Custom Remount
Using Laura's matched pair of oval blue topaz, we hand fabricated a low profile right-hand ring and added a fine make center diamond in compliment. This Custom Remount includes a bright cut top plate, scrolling filigree and a surprise diamond on the north and south view and millgrain detail, all in 14 karat white gold.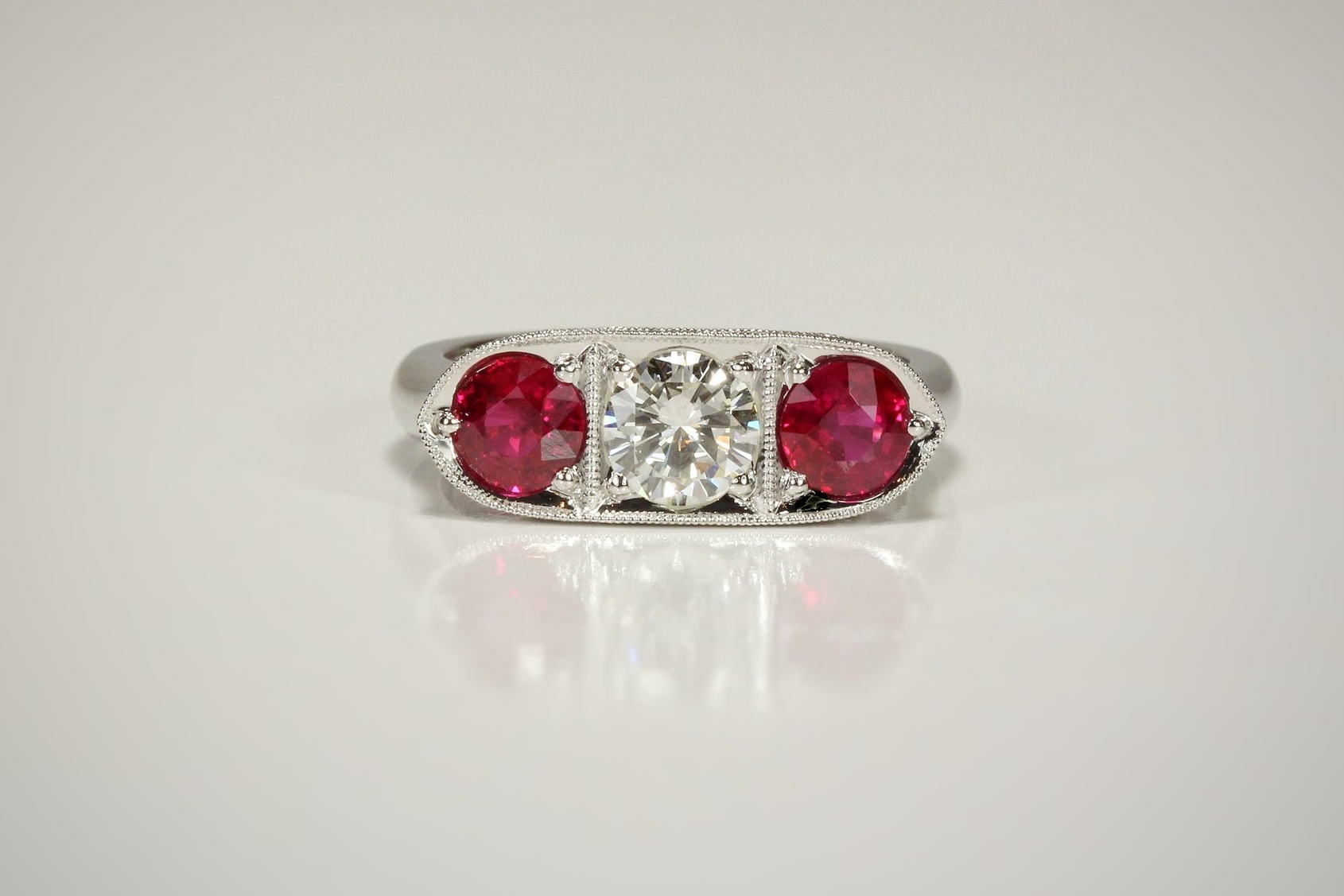 The Ruby Ring
Custom Remount
Creating a Custom Remount for her diamond lead to us pairing it with two gorgeous fine make rubies, because she was inspired by one of our previous designs. This low profile, platinum engagement ring has clean gallery work and a bright cut top plate accented with millgrain.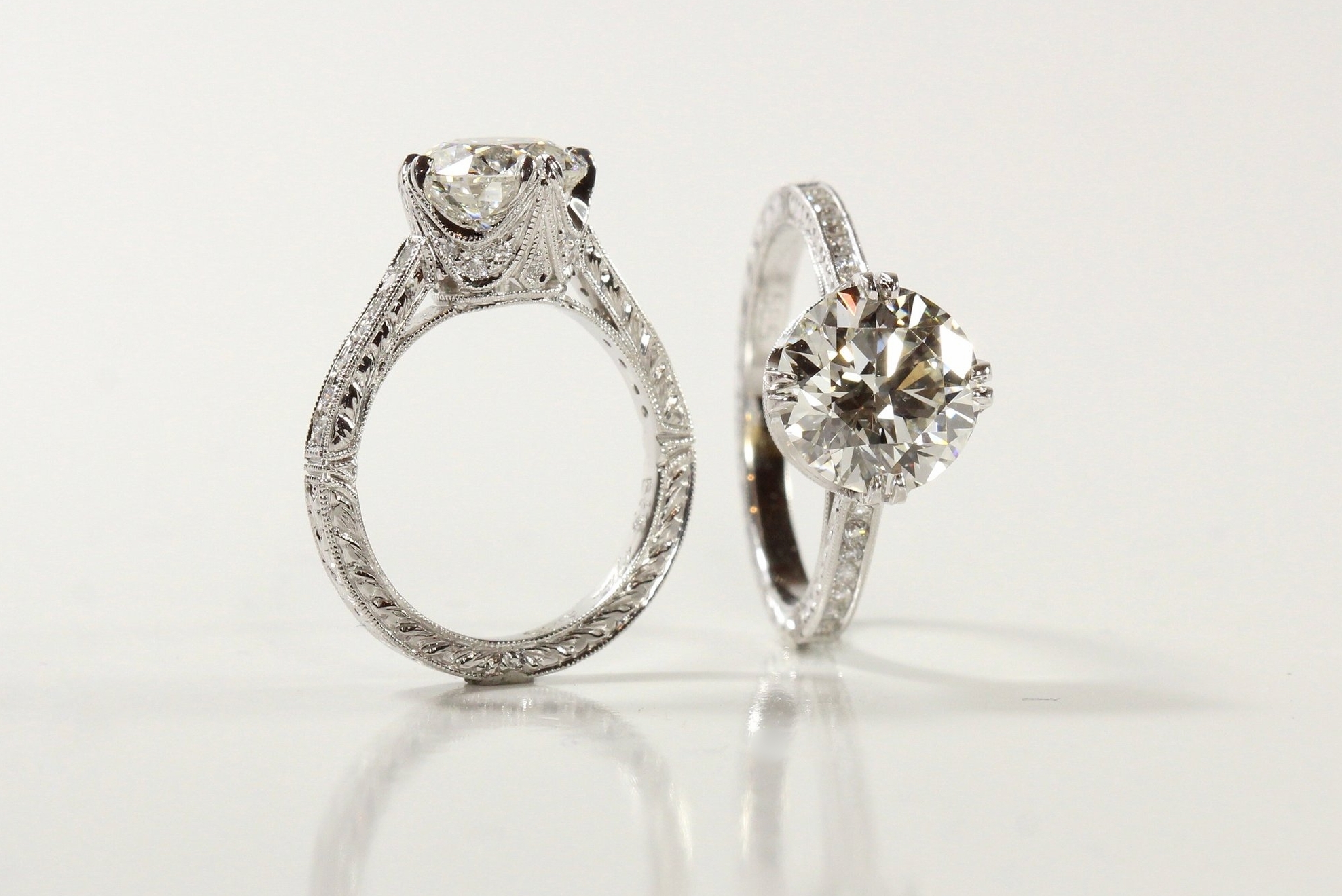 The Family legacy
Custom Design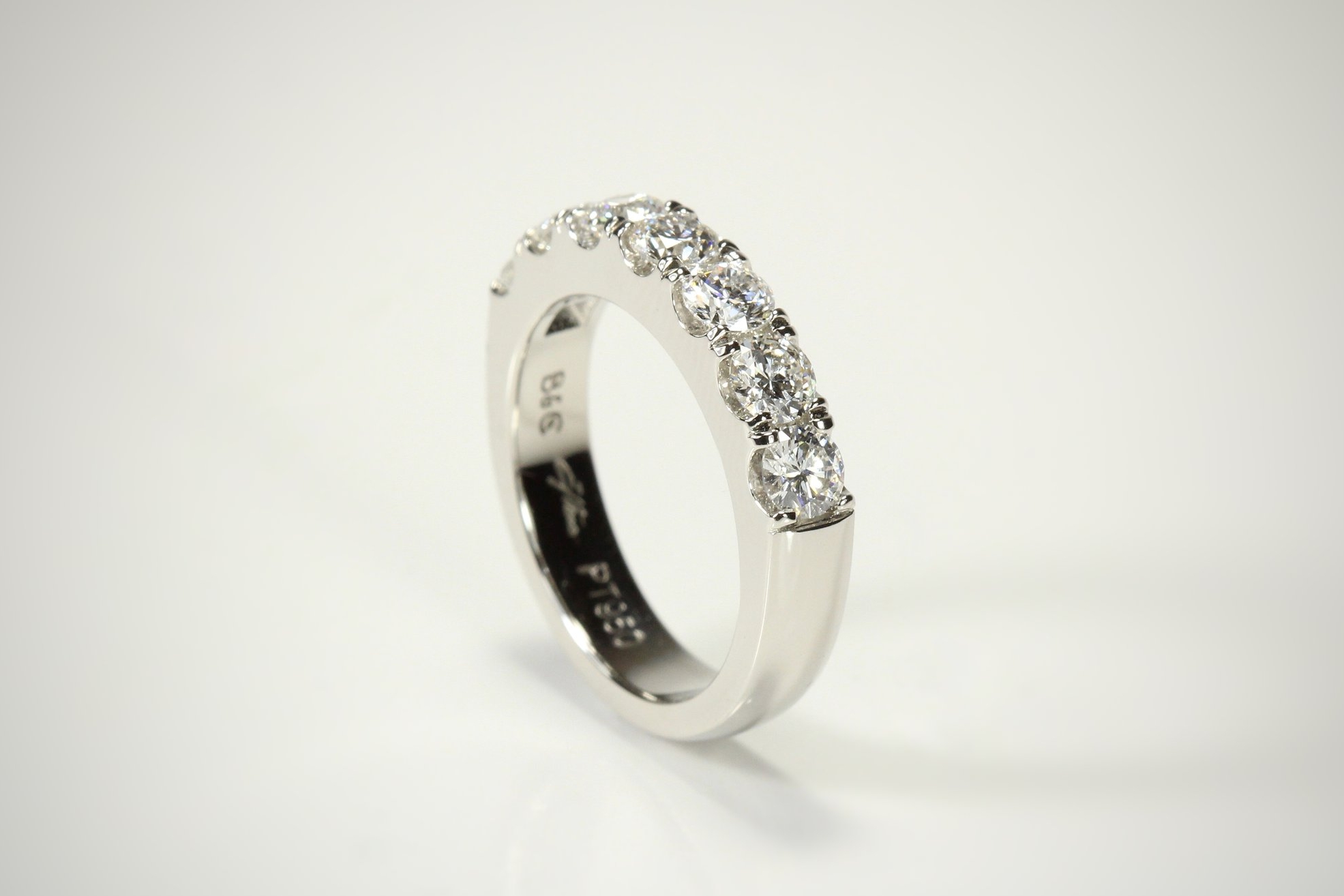 The Breath catcher
Custom Design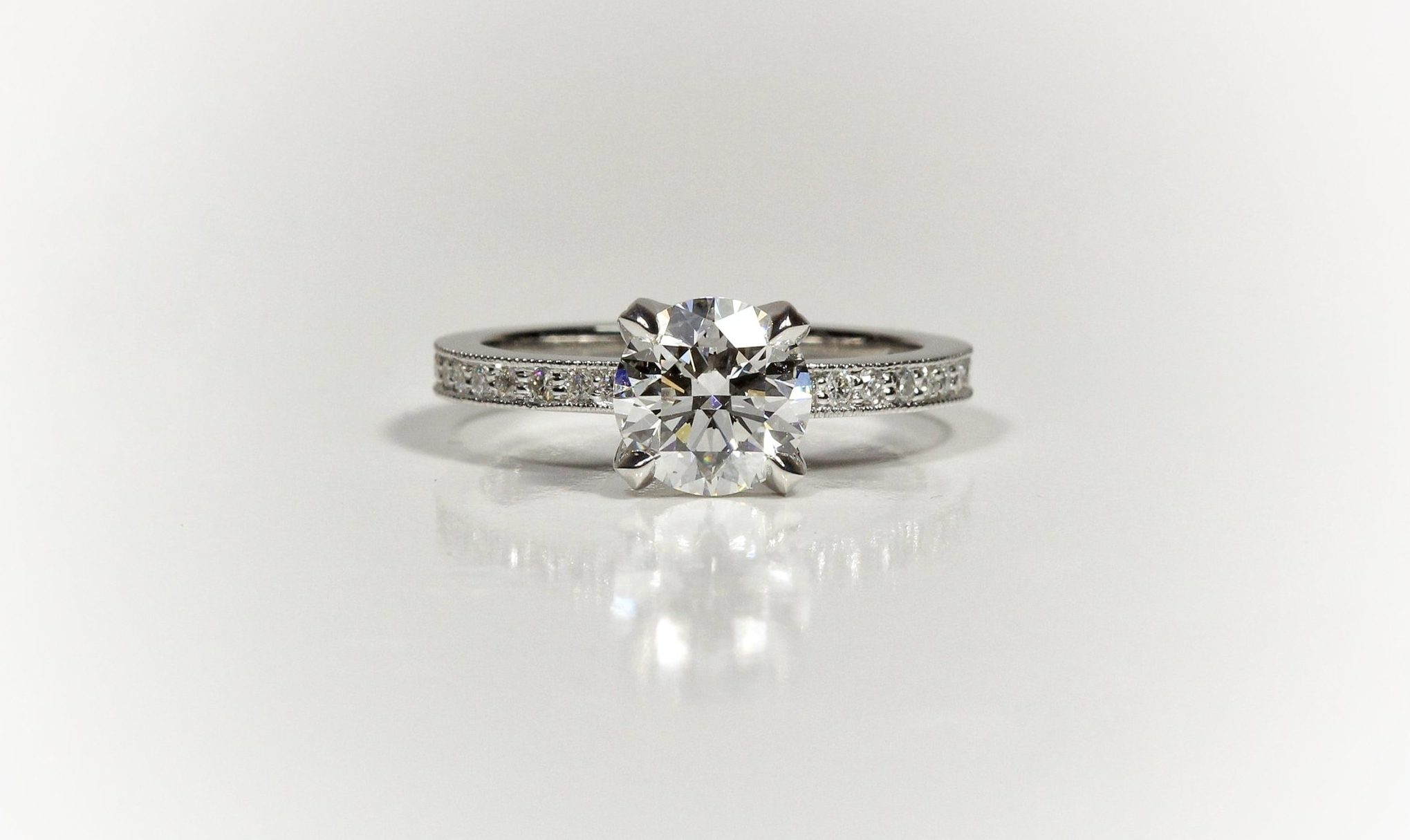 The Single Beauty
Custom Design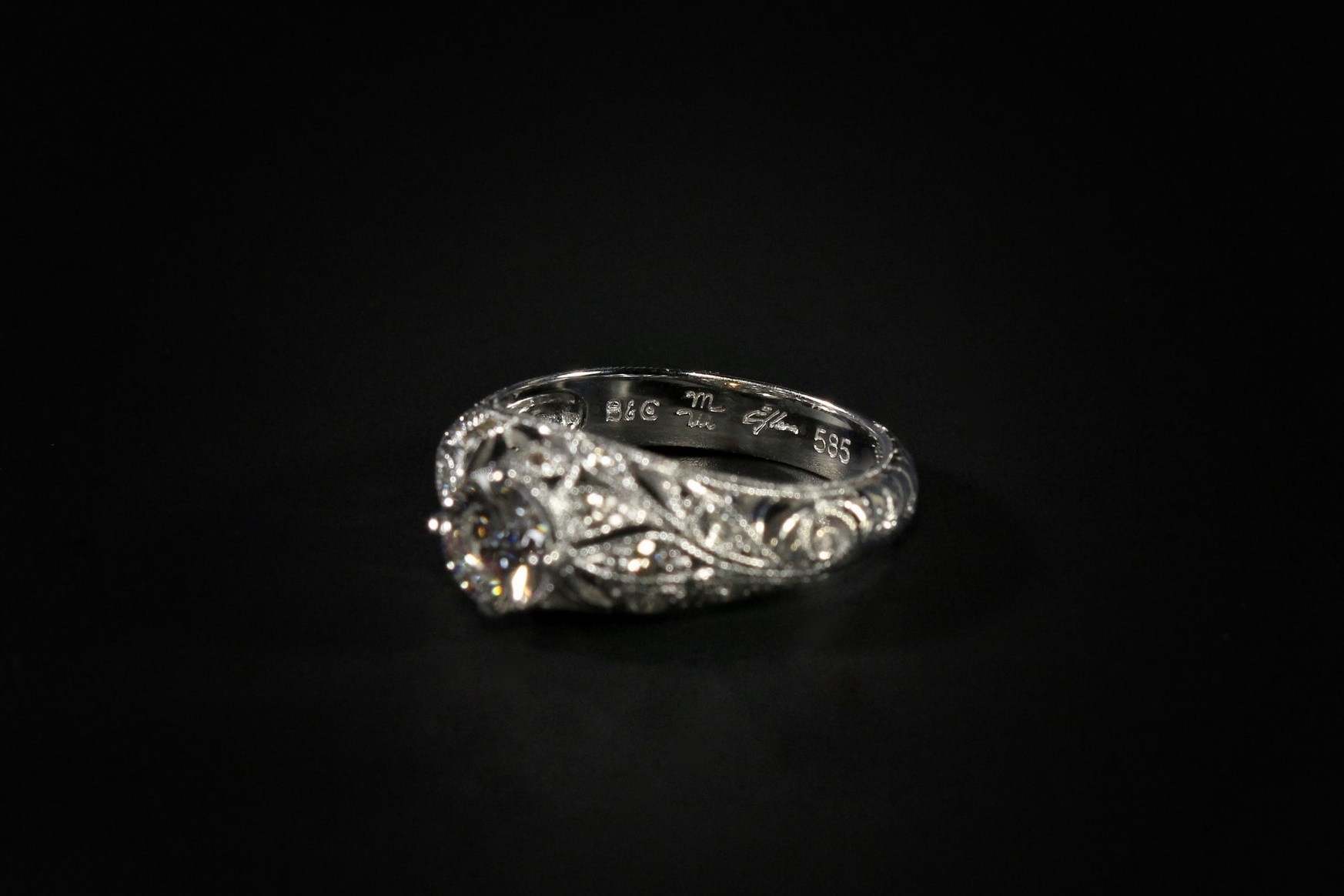 The Diamond Leaf
Custom Remount